Made for doors of any material, Marix pivot door closers make your project really stylish and simple-looking and it has no deals with. Its minimalist style and structure make it best for modern-day and modern houses.
Marix door closer comes with a stainless steel hardware kit that transforms any door into a pivoting door without the need for hinges, pins or those obsolete over head door closers.
Applications for Marix door closers:
Front doors of houses and apartments;
Internal doors in particular Rooms, Kitchens and Bathrooms;
Offices doors, hospitals and commercial establishments in general.
Marix floor concealed door closer is discrete, harmonious and of modern design providing beauty and elegance to any environment. Its reduced size is discreet yet robust and maintenance-free. Easy-to-install door closer, without the need for major construction and breakage, bring safety and peace of mind when installing and operating.
INSTALLATION OPTIONS FOR MARIX DOOR CLOSER:
•With openings for both sides with a stop function every 90°; Returns to the closed position smoothly.
• Rotates 360° on itself when installed in the center of the door.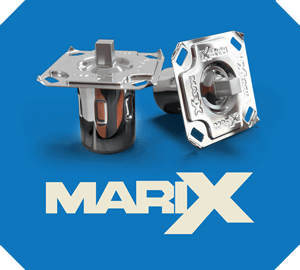 MARIX DOOR CLOSER TECHNICAL CHARACTERISTICS

• Stainless steel 304 external body;
• Sintered steel Internal closing mechanism;
• Chrome-silicon driven control;
• Automotive technology
• Weight less than a pound;
• Opening range up to 4 ft.
• Door width up to 8 ft (center pivot)
• Supports doors up to 270 Lb;
• Fully shielded;
• Stainless steel hardware kit included (3 pieces)
• 5 years warranty

PACKAGE CONTENT:

• Marix Door Closer with Stainless Steel cover
• Hardware kit for door (3x)
• Installation manual
• Cardboard cradle (2x) – Template
• Warranty term

MARIX DOOR CLOSER INSTALLATION

• Includes explanatory guide for step-by-step installation;

• The Marix door closer comes with a cardboard cradle that can be used as a template for marking the locations of the drillings for the installation of the door closer and the fastening screws;

• Average installation time: 30 minutes.

SPECIAL FEATURES THAT MAKE THE MARIX DOOR CLOSER WHAT IS BEST IN THE WORLD OF FLOOR CONCEALED CLOSERS FOR USE IN DOORS OF EVERY TYPE OF MATERIAL.

• Discreet design, harmonious and modern features, provides beauty and elegance to any ambient;

• New, more modern and durable internal drive system made with silicon chrome alloy, free of maintenance;

• The absence of risks and accidents due to the small size of the MARIX door closer ensures safety and tranquility for users;

• 3 years of research to achieve excellence in MARIX floor concealed technology, optimized in all respects;

• Size, usability, strength, installation and price.

MARIX PIVOT DOOR CLOSER INSTALLATION GUIDE